Cybersecurity Statistics. PHOTO: Cybercrime Magazine.
24 Apr

Cybercrime Infographics: Illustrations Of The Past, Present, And Future Threats We Face
A picture is worth a thousand words when it comes to cybersecurity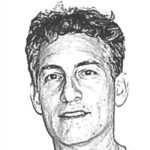 –Steve Morgan, Editor-in-Chief
Sausalito, Calif. – Mar. 24, 2020
Our cybercrime and cybersecurity facts, figures, predictions, and statistics have appeared in hundreds of the world's largest media outlets, as well as articles, blogs, presentations, speeches, and videos from governments, schools, associations, vendors and industry experts globally. We're excited to provide our readers with unique hand-drawn infographics that enhance our editorial.
If you'd like to include one of our infographics in your media, then you will need to provide attribution to us as the source (i.e. "according to Cybersecurity Ventures"), with a hyperlink to our site. Cybercrime Magazine will be featuring at least one new hand-drawn infographic every month going forward in 2020, so keep an eye out for the latest!
Cybersecurity Statistics
The 2019 Cybersecurity Almanac, co-published by Cisco and Cybersecurity Ventures, is a handbook containing 100 of the most pertinent data points and statistics for tracking cybercrime and the cybereconomy.
Internet Roll Call
Cybersecurity Ventures predicts that humans on the Internet will triple from 2015 to 2022 and hit 6 billion. And 90 percent of the human population, aged 6 years and older, will be online by 2030.
Security Awareness Training
Your company has suffered a cyber intrusion or data breach. Or it will. And it's probably because your employees haven't been trained on how to spot a phishing scam. AwareGO has sponsored this infographic that drives home the point.
History of Cybercrime
We all need a reminder that history can and will repeat itself — if we continue to respond in the same way! Robert Herjavec, CEO at Herjavec Group, takes a look at hacking incidents from 1834 to present — with some help from this infographic.
Consumer Security Threat
Phishing scams, SIM swapping attacks, ransomware, and identity theft, are plaguing consumers globally. Avast is dedicated to creating a world that provides safety and privacy for all, and they've sponsored this infographic.
Ransomware Attacks
Global ransomware damage costs are predicted to reach $20 billion by 2021 – which is 57X more than it was in 2015. KnowBe4 is the world's most popular integrated platform for security awareness training combined with simulated phishing attacks – to help protect against ransomware infections, and they've sponsored this infographic.
Cybersecurity Jobs
Cybersecurity Ventures' 2019/2020 Official Annual Cybersecurity Jobs Report, which is sponsored by Herjavec Group, predicts that there will be 3.5 million unfilled cybersecurity jobs by 2021, up from 1 million positions in 2014. This infographic sheds light on the cybersecurity labor crisis.
Network Security
What are the top 5 network security risks and threats? Cimcor, Inc., developers of CimTrak for IT integrity, security, and compliance, says the top 5 are encryption, ransomware, DDoS (distributed-denial-of-service) attacks, insider threats, and the cloud — as you can see in this infographic.
Auto Dealerships
Small businesses, which include auto dealers, are the victims of more than 50 percent of all cyberattacks. Auto dealers collect personally identifiable information (PII) – including credit cards, credit scores, bank accounts, and SSN#s – from their customers, which makes them especially vulnerable to cyber intrusions. This infographic, sponsored by Helion, illustrates the risk.
Stop Phishing Scams
Robert Herjavec, a Shark on ABC's Shark Tank and founder / CEO at Herjavec Group, wrote an article in Cybercrime Magazine on the top 10 ways to spot a phishing scam. It was so good that we decided to draw this infographic for organizations and employees globally. Knowledge is power in the war against cybercrime. Share this picture with everyone you know!
Healthcare Cybersecurity
Cybersecurity Ventures predicts that the healthcare industry will spend $65 billion cumulatively over five years, from 2017 to 2021, on cybersecurity products and services. But after paying all those bills, many hospitals will not pass their cyber physicals. This infographic, sponsored by CyberMaxx, illustrates the problem.
Data Explosion
Cybersecurity Ventures predicts that the world will store 200 zettabytes of data by 2025. This includes data stored on private and public IT infrastructures, on utility infrastructures, on private and public cloud data centers, on personal computing devices — PCs, laptops, tablets, and smartphones — and on IoT devices. This infographic is sponsored by Arcserve.
NCSAM 2020
National Cybersecurity Awareness Month (NCSAM) was launched by the National Cyber Security Alliance (NCSA) and the U.S. Department of Homeland Security (DHS) in October 2004. In observance of NCSAM 2020, Cybercrime Magazine is excited to share our infographic for chief information security officers (CISOs) and IT security teams globally. Sponsored by ePlus.
Cybercrime Costs
If it were measured as a country, then cybercrime — which is predicted to inflict damages totaling $6 trillion USD globally in 2021 — would be the world's third-largest economy after the U.S. and China. Cybersecurity Ventures expects global cybercrime costs to grow by 15 percent per year over the next five years, reaching $10.5 trillion USD annually by 2025, up from $3 trillion USD in 2015.
We'll be posting more cybersecurity infographics here shortly. Stay tuned!
– Steve Morgan is founder and Editor-in-Chief at Cybersecurity Ventures.
Go here to read all of my blogs and articles covering cybersecurity. Go here to send me story tips, feedback and suggestions.