Cybersecurity Book Review
FROM THE EDITORS AT CYBERSECURITY VENTURES
Q1 2018
The Cybersecurity Book Review is published quarterly by Cybersecurity Ventures. We provide an updated list of cybersecurity books recommended by our Editors and Contributors.
EDITOR'S DESK
Books that arm readers in the war against cybercrime
What we've read, and you should too…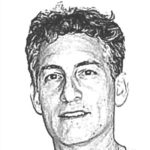 – Steve Morgan, Editor-In-Chief
Sausalito, Calif. – Jan. 4, 2017
Our editors are constantly pitched by authors on the latest and greatest cybersecurity books. But only a small percentage of them get a thumbs up from us.
With only so much time to read, we aim to filter out the best books for our readers.
A new book, Hacking the Hacker: Learn From the Experts Who Take Down Hackers by Roger Grimes, features 26 top hackers devoted to making the world a more cyber secure place.
Grimes' book points out the essential truth everyone should be mindful of: Taken as a whole, hackers are good. To call them bad — as the media and popular culture portray them — would be a misnomer.
Another one hot off the presses from Grimes is A Data-Driven Computer Security Defense: THE Computer Security Defense You Should Be Using. Our editors haven't reviewed it yet, but they will soon.
BOOK LIST
If a book makes it onto our list, then it's worth buying. Our list contains 10 books which are well written, and enlighten readers on the topics of cybercrime, cyberwarfare, and cybersecurity.
– Steve Morgan is founder and and Editor-In-Chief at Cybersecurity Ventures.
Stay tuned for the Cybersecurity Book Review, Q2 2018 edition, coming in April.

© 2018 Cybersecurity Ventures. All rights reserved. Federal copyright law prohibits unauthorized reproduction of this Report by any means and imposes fines up to $150,000 for violations. Reproduction in whole or in part in any form or medium without expressed written permission of Cybersecurity Ventures is prohibited.