Cybersecurity Careers. CARTOON: Rothstein/Morgan.
28 Jan

Baby Steps To Building Your Cybersecurity Career
One certification at a time is a rewarding path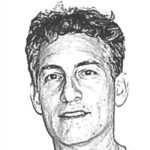 – Steve Morgan, Editor-in-Chief
Sausalito, Calif. – Jan. 28, 2021
There are career opportunities in the burgeoning cybersecurity field for everyone from newbies to experts.
Cybersecurity Ventures predicts there will be 3.5 million unfilled cybersecurity jobs globally by the end of 2021, up from one million positions in 2014.
Industry certifications are an important building block for everyone. It doesn't matter if you're a complete novice or an industry veteran with 20 plus years of experience.
Information technology workers with security certifications tend to have significantly higher average salaries — around 15 percent more — than those without them, according to a global IT skills and salary study conducted by Global Knowledge.
---
Cybercrime TV: Forging a Cybersecurity Career Path
Opportunities for everyone
---
A toddler may be a bit young to get started in cyber, but hey you never know! Pre-K isn't that far off, and internet safety books, games, and apps for kindergartners are all the rage now.
CompTIA Security+ is the first security certification IT professionals should earn, according to ITU Online, a leader in providing online IT training courses. It establishes the core knowledge required of any cybersecurity role and provides a springboard to intermediate-level cybersecurity jobs.
The next step may be earning a specialized cert such as the popular Certified Ethical Hacker (CHE).
For ambitious, experienced and studious individuals, a Certified Information Systems Security Professional certification is the gold standard and why you'll often see "CISSP" next to the names of highly paid cybercrime fighters.
There are more than 50 cybersecurity job titles, some of which require years of experience and one or more certifications. The opportunities are limitless for everyone in our field.
And never forget, now matter how much experience you have…
Be smart. Don't click. Stay safe.
We'll be back soon with another cybercrime cartoon.
– Steve Morgan is founder and Editor-in-Chief at Cybersecurity Ventures.
Go here to read all of my blogs and articles covering cybersecurity. Go here to send me story tips, feedback and suggestions.