Romance Scams. CARTOON: Rothstein/Morgan.
14 Sep

Online Dating Is A Real Pain In The Wallet
Keep your credit card to yourself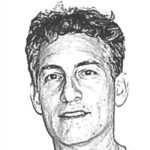 – Steve Morgan, Editor-in-Chief
Sausalito, Calif. – Sep. 14, 2020
Loneliness can be very expensive if your way out of it is a new flame on social media.
Romance scams, also called confidence fraud, occur when a criminal adopts a fake online identity to gain a victim's affection and trust, according to the FBI. The scammer then uses the illusion of a romantic or close relationship to manipulate and/or steal from the victim.
According to the FBI's Internet Crime Complaint Center (IC3), romance scams result in greater financial losses to victims when compared to other online crimes.
Last year, almost 20,000 complaints categorized as romance scams were reported to IC3 (about 1,000 more than the previous year), and the losses associated with those complaints exceeded $475 million.
---
Internet Romance Scams Are Rising
"I think we've met before" – Louis
---
The FBI offers advice to help you avoid heartbreak, embarrassment, and financial loss. Chief among them is never provide your financial information, loan money, nor allow your bank accounts to be used for transfers of funds. And you should not ever offer up your credit card digits.
If you are a victim who has already sent money to a romance scammer, immediately report the incident to your financial institution, file a complaint with the FBI's IC3, and contact law enforcement.
Be smart. Don't click. Stay safe.
We'll be back soon with another cybercrime cartoon.
– Steve Morgan is founder and Editor-in-Chief at Cybersecurity Ventures.
Go here to read all of my blogs and articles covering cybersecurity. Go here to send me story tips, feedback and suggestions.