John McAfee's Life Story. PHOTO: Cybercrime Magazine.
25 Feb

John McAfee: Sex, Lies and VirusScan

Posted at 00:10h

in

Blogs
Antivirus pioneer paid $200 to someone he met on a BBS to write the original VirusScan program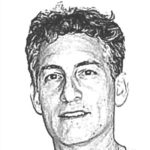 – Steve Morgan, Editor-in-Chief
Northport, N.Y. — Feb. 25, 2019
John McAfee is widely known as the legendary programmer and creator of his namesake company, McAfee Associates, and its first antivirus program.
Turns out, McAfee didn't actually write the original code base for VirusScan.
During a daylong interview conducted on Nov. 5, 2015, in a now-defunct tech incubator in Opelika, Ala., McAfee disclosed that in 1986 he paid $200 to Dennis Yell, a programmer he met on a BBS (bulletin board service), to write an antivirus program that would remedy the infamous Brain virus, which infected computers running the MS-DOS operating system.
That was hardly the only revelation from McAfee. A post on LinkedIn — "How I Hacked John McAfee And Got Away With His True Life Story" — explains. It was McAfee on truth serum, talking sex, lies, VirusScan, and a whole lot more.
In place of a book, this is the first in a blog series that will cover McAfee's life story based on exclusive interviews with him and many others.
If you speak directly to McAfee (as opposed to relying on second-hand information and unfounded media stories) and probe him with enough follow-up questions, then you'll learn that the man aims to tell the truth about most everything — even at the risk of embarrassing himself. However, if you irritate him (not hard to do), then you may be on the receiving end of a prank — often interpreted as lies by his victims (usually the media).
How many people would dispel a myth that lifted them up into the rare air of programming genius?
---
---
In early 1986, while living in a one-bedroom house in Santa Clara, Calif. with his first wife, Judy, McAfee was a BBS operator. He had started that up while working as a programmer at Lockheed Martin. McAfee enjoyed chat forums, where he would exchange jokes and meet all sorts of people — one of them being Dennis Yell, whom McAfee described as a brilliant but socially inept programmer.
One day, McAfee's brother-in-law (who was living with them at the time) was on the BBS, reading (out loud) an article about viruses. The second McAfee learned of the Brain virus, he dialed up Yell with marching orders to write an antivirus app. McAfee was in fact the producer and owner of the program. But Yell was the programmer that coded it.
The rest is history. McAfee posted VirusScan to his BBS and it quickly got a half-million downloads. A couple of versions later, and the program was downloaded by tens of millions of users.
Why do we start here with McAfee's story? Because it provides context on his willingness to tell the truth, the whole truth, and nothing but the truth — at least as it relates to memorializing his life story. Most of what he shared on that day has been corroborated by credible sources. That surely does not mean he hasn't lied to others.
The media tends to run away with stories. McAfee was cast as an entrepreneur programmer behind the quintessential Silicon Valley startup. He never said otherwise. But when he was asked point-blank about VirusScan, he didn't hesitate to tell the truth.
In an email exchange earlier this week, McAfee informed that Yell committed suicide years ago. When asked how he knew about the circumstances of Yell's death, McAfee said that he learned of it from Billy Corben, a movie producer and director.
Some people say that John McAfee is a liar. Read the blogs and decide for yourself.
– Steve Morgan is founder and Editor-in-Chief at Cybersecurity Ventures.
Go here to read all of my blogs and articles covering cybersecurity. Go here to send me story tips, feedback and suggestions.
"McAfee Unplugged" was supposed to be John McAfee's true life story and biography, as told to Steve Morgan. Instead, Steve is writing a series of blogs in Cybercrime Magazine — to share a unique window into the life and times of John McAfee, founder of his namesake antivirus company, which was the hottest and fastest growing security company of its time, had a successful IPO in 1992, and ultimately sold to Intel Corporation (while still bearing John McAfee's name) for $7.7 billion in 2010.