Ken Xie at Fortinet Offices in New York City. PHOTO: Cybercrime Magazine.
30 Aug

Fortinet Founder And CEO On How To Protect Next Generation IT Infrastructures
Ken Xie, Founder, Chairman of the Board, and CEO of Fortinet sits down for a discussion with Cybercrime Magazine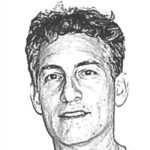 – Steve Morgan, Editor-in-Chief
Sausalito, Calif. – Aug. 30, 2018
Ken Xie is one of a rare breed of visionary founders that are able to pivot from startup entrepreneur to big company CEO. He's the Founder, Chairman of the Board, and CEO of Fortinet, the world's third largest pure-play cybersecurity firm.
Cybercrime Magazine's Georgia Reid sat down with Xie at Fortinet's New York City offices yesterday for a discussion covering his background, the evolution of protecting IT infrastructures, the cybersecurity worker shortage, and where the industry is headed.
Xie, who was born in China and educated at Stanford University, was a technology tinkerer in a Palo Alto, Calif. garage before starting up his first company, SIS – by accident. He passed on VC funding and watched the likes of Checkpoint Software Technologies take the money and grow. However, still, he learned a lot and built a viable enterprise on his first go-round.
His next startup, NetScreen, was a fast mover in the firewall market. Xie raised capital, grew the business quickly, and Juniper Networks acquired it for $4 billion (in stock) in 2004. A fast exit, as Xie calls it.
But it was starting up, and then scaling up Fortinet, that turned Xie into a highly admired cybersecurity beast. Over the past 18 years, his company has become a force in the market for next-generation firewalls (NGFW) and related security products. Today, Fortinet has a market cap that is approaching $14 billion (USD), and a significant presence in Fortune 500 and Global 2000 companies, mid-sized enterprises, academia, and governments globally.
---
---
Xie has also led the charge on Fortinet's Network Security Academy (FSNA), which he says is the biggest program of its kind in our industry. So far, Fortinet has helped certify more than 150,000 Network Security Experts (NSEs) globally. According to Xie, there were roughly 1 million unfilled cybersecurity positions in 2015. A report from Cybersecurity Ventures predicts that number will rise to 3.5 million by 2021. Xie believes that we need more young people, women, and veterans as cyber fighters — and that's a big part of what is driving FSNA to expand and train more people.
At the heart of Xie's strategy to keep Fortinet at the forefront of protecting IT infrastructures is understanding them. He has carefully plotted his company's product vision in sync with the changing nature of information systems in large enterprises. Xie was ahead of the market when he saw the next generation of what needed to be cyber defended by CIOs, CISOs, and IT security teams – namely mobile phones, a shift to the cloud, Internet-of-Things (IoT) devices, and apps. The cyber threat moved from the perimeter to inside of the network, and Xie made sure that Fortinet was there ahead of time – with their NGFW.
Xie is all about community, as evidenced by his commitment to the Network Security Academy. He also points out that Fortinet was a founding member of the Cyber Threat Alliance (CTA), a not-for-profit organization that is working to improve the cybersecurity of our global digital ecosystem by enabling near real-time, high-quality cyber threat information sharing among companies and organizations in the cybersecurity field.
You can learn a lot more about Xie and Fortinet's evolution by watching the video interview. If anyone asks what makes Fortinet better or different than anyone else, then their sales team might say "we've got Ken Xie." And that's important – because he's already planning for the emergence of 5G, which will make organizations even more vulnerable. But just like he's been doing in a career that spans 30 years, the last 18 of them at Fortinet, Xie is one step ahead.
– Steve Morgan is founder and Editor-in-Chief at Cybersecurity Ventures.
Go here to read all of my blogs and articles covering cybersecurity. Go here to send me story tips, feedback, and suggestions.
SPONSORED BY FORTINET
From the start, the Fortinet vision has been to deliver broad, truly integrated, high-performance security across the IT infrastructure.
We provide top-rated network and content security, as well as secure access products that share intelligence and work together to form a cooperative fabric. Our unique security fabric combines Security Processors, an intuitive operating system, and applied threat intelligence to give you proven security, exceptional performance, and better visibility and control–while providing easier administration.
Our flagship enterprise firewall platform, FortiGate, is available in a wide range of sizes and form factors to fit any environment and provides a broad array of next-generation security and networking functions.
The Fortinet corporate brochure explains how we deliver comprehensive network, endpoint, application, and access security.
Learn more at Fortinet.com.