Ginger, FBI K-9. PHOTO: Scott Saul.
26 Feb

FBI's Red Fox Lab Hunts Down Hackers
Cyber Dog Has 44X The Sniffing Power Of A Human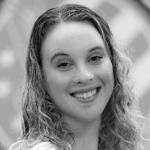 – Amanda Glassner
Northport, N.Y. – Feb. 26, 2021
You can see it all at a technology trade show. Even the FBI's cyber dog who can sniff silicon from miles away.
RSA Conference USA, the world's largest cybersecurity event, has gone virtual in 2021 due to the COVID-19 pandemic. While this year's biggie will be held in cyberspace and promises to be awesome, we got a little nostalgic and watched some footage of last year's expo hall.
The best demo at RSAC 20? Ginger, the electronic storage detection (ESD) K-9. Any doubt as to whether she could help hunt down hackers vanished in the FBI's booth.
One of a few ESDs, Ginger, a fox red lab, dazzled onlookers by searching for a device on command, and finding it seconds later.
---
---
Ginger On The Job
"Besides being the best dog ever, [Ginger's] job with the FBI is to go out and find digital evidence," said her handler, Scott Saul, a forensic examiner and IT specialist in an interview with Cybercrime Magazine. "When we take her out on search warrants, she goes in to look for hidden electronic devices or overlooked devices during searches."
Together, this dynamic duo has worked on almost 30 cases, according to a report from ABC7 News.
Though she makes it look easy, Ginger's role requires hundreds of hours of training and new lessons every week. With 44 times the sniffing power of a human, her nose knows no bounds.
"Ginger is trained to sniff out SD cards, hard drives, cell phones, and iPads, which often are used as key evidence in an FBI investigation," said Scott Schober, the Cybercrime Magazine reporter who interviewed Saul. "It was encouraging to see 'man's best friend' assist law enforcement as a critical tool in their arsenal to fight cybercrime."
Since the world went remote, cybercrime has spiked by 600 percent. While this certainly calls for alarm, Ginger signifies a hopeful future.
Unfortunately, she can't come over every time you lose your phone, but Ginger isn't exclusive to the FBI. Her services can be requested, and she's able to travel.
Hardened cybercriminals, be afraid. Ginger's got your scent, and don't underestimate the smiling face and wagging tail. She's as cute as she is fierce.
Puppy Love Event Rules
The FBI is grooming young talent as future cyber fighters.
A sign hanging on a fenced pen in the FBI's booth read "Puppy Love Event RULES" — and two pups were inside playing.
The rules:
Hand sanitize before playing with the puppies.
Snuggle them tight so they don't fall.
Take a picture to capture your memory and hashtag #puppyloveparty.
Thank you for helping keep our puppies healthy!
See Ginger and the puppies who really stole the show in our video here.
– Amanda Glassner is a staff writer and reporter at Cybercrime Magazine.
Go here to read all of my blogs and articles covering cybersecurity. Go here to send me story tips, feedback and suggestions.