Email Security. CARTOON: Rothstein/Morgan.
15 Dec

Email Security Remains A Daunting Challenge For 2021
Protecting billions of users from phishing scams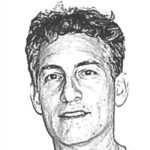 – Steve Morgan, Editor-in-Chief
Sausalito, Calif. – Dec. 15, 2020
Ray Tomlinson, the inventor of email who died at the age of 74 in 2016, decided to use the @ symbol to designate a user from its host. He sent the first email message ever in 1971.
Now the world sends and receives hundreds of billions of emails per year and there's no end in sight. Social media is an add-on to our personal and business messaging habit, not a replacement.
It's no surprise then that email phishing scams initiate as many as 90 percent of all cyberattacks.
---
Cybercrime TV: Eyal Benishti, CEO at IRONSCALES
Cybersecurity inside your email inbox
---
The email security problem has spawned a market consisting of dozens of vendors and a multitude of products. The Gartner Market Guide for Email Security in 2020 reviews customers from over 30 different email security providers.
Putting the right cybersecurity in place for your personal and business email is important, but it's not enough.
Humans are the weakest link when it comes to email security. Take your cybersecurity to the next level by training all of your employees to be cyber safe. Cybercrime Magazine publishes a list of the top security awareness training companies to help you find the right one.
Be smart. Don't click. Stay safe.
We'll be back soon with another cybercrime cartoon.
– Steve Morgan is founder and Editor-in-Chief at Cybersecurity Ventures.
Go here to read all of my blogs and articles covering cybersecurity. Go here to send me story tips, feedback and suggestions.