Cisco's Cybersecurity Business. PHOTO: Cybercrime Magazine.
15 Aug

Cisco's CEO: "Cyber Security Is The Top Priority For Our Customers"
Chuck Robbins on the networking giant's Q4 2019 earnings call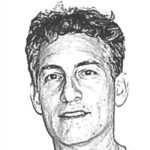 –Steve Morgan, Editor-in-Chief
Sausalito, Calif. – Aug. 15, 2019
On Cisco Systems, Inc.'s (NASDAQ: CSCO) fourth quarter 2019 quarterly earnings conference call yesterday, its executive vice president and CFO, Kelly Kramer, said that security was up 14 percent with strong performance in identity and access, advanced threat, unified threat and web security.
"Cybersecurity continues to be the top priority for our customers, driving another consecutive quarter of double-digit growth," said Chuck Robbins, chairman and CEO at Cisco. "As the industry leader in networking and cyber security, we are investing in and extending our subscription-based security innovations across all networking domains in today's zero trust environment."
The Wall Street Journal states that revenue in Cisco's small but fast-growing security segment increased to $714 million. "Small" is a relative term, considering that Cisco's figures make them one of the largest (if not the largest) players in the cybersecurity market.
Global spending on cybersecurity products and services is predicted to reach $1 trillion cumulatively between 2017 and 2021, according to a recent market report from Cybersecurity Ventures. That's a lot of headroom for Cisco to grow its revenues in a burgeoning space.
"By extending our ability to detect threats across public clouds and by protecting the campus, branch, WAN and data center against threats, we are the only company providing an integrated end-to-end security architecture across multi-cloud environments," added Robbins.
Cybercrime damage costs are predicted to reach $6 trillion annually by 2021, up from $3 trillion in 2015, according to another report from Cybersecurity Ventures. Fortune 500 and Global 2000 CISOs (chief information security officers) are looking to consolidate their security investments and shift their spending habits away from point products.
"I tend not to engage with a lot of point solution vendors, because I'm looking more for the platform that I'm building capability on, or a tool that will do a multitude of things, or that can replace a multitude of point solutions that I may have in my environment," said Debbie Wheeler, global CISO at Delta Air Lines, in an interview with Cybercrime Magazine earlier this year.
That sentiment reflects what the editors at Cybersecurity Ventures have been hearing from large enterprise security leaders over the past year. And it plays into Cisco's strategy of providing mid-sized to large organizations with a consolidated cybersecurity platform.
In 2019, Cybersecurity Ventures expects that Fortune 500 and Global 2000 CISOs will reduce the number of point security products/solutions in use at their corporations by 15-18 percent.
Gee Rittenhouse, senior vice president and GM, Security Business Group at Cisco, says it's important for them to build a platform to simplify security for their customers. Rittenhouse is all about simplicity and trust — two words that CISOs love to hear, and where they want to go.
---
---
Market Awareness
In February of this year, Cisco and Cybersecurity Ventures co-published the 2019 Cybersecurity Almanac, a handbook containing the most pertinent statistics and information for tracking cybercrime and the cybersecurity market.
The Almanac contains 100 facts, figures, predictions, and statistics, to help frame the global cybercrime landscape, and what the cybersecurity industry is doing to help protect governments, citizens, and organizations globally.
After that, Cisco sponsored the first 26 episodes of the CISO Minute, produced by Cybercrime Magazine, a weekly 60-second podcast with custom content for CISOs and security leaders at mid-sized to large organizations globally.
Some of the CISO Minute content was conceived of by the CISOs themselves, in collaboration with Cybersecurity Ventures, and touches on topics including recruiting and retention, diversity, women in cyber, compensation, data privacy laws, the dark web, boardroom strategy, and much more.
"I frequently rely on Cybersecurity Ventures to obtain the latest security industry news, expertise and research," says Roland Cloutier, senior vice president and CSO at ADP. "Between the CISO one-minute podcast, published research, videos, and events, I'm never without a resource to get statistics, market data and real-time predictions that help me stay abreast of market-impacting factors."
The next 26 episodes of the CISO Minute features special guest host Theresa Payton, former White House CIO and cybersecurity expert. Payton played the role of deputy commander of Intelligence on CBS' TV show "Hunted."
Cisco has turned up the volume on its thought leadership in cybersecurity, and it's being heard loud and clear by market and industry analysts, CIOs, CISOs, and C-suite executives. It will be interesting to hear what Robbins has to say about cybersecurity on the next earnings call.
(The Cisco Systems Inc (CSCO) Q4 2019 Earnings Call Transcript appears in Yahoo Finance, and was transcribed by The Motley Fool)
– Steve Morgan is founder and Editor-in-Chief at Cybersecurity Ventures.
Go here to read all of my blogs and articles covering cybersecurity. Go here to send me story tips, feedback and suggestions.