Brooks trail running shoes. PHOTO: Cybercrime Magazine.
06 Jul

My Dad Died Last Week. God Bless You. I Love You, Dad.

Posted at 14:43h

in

Blogs
Howard Brooks, loving father, entrepreneur, and tech enthusiast, passes away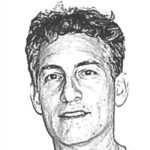 – Steve Morgan, Editor-in-Chief
Smugglers' Notch, Vt. – Jul. 6, 2018
At 7:50 p.m. PST, on Jun. 30, 2018, my dad, Howard Brooks, 76, a Pleasanton, Calif. resident for the past 15 years, died and went to Heaven.
Although this post is somewhat of an obituary and personal in nature, it does have a lot to do with cybersecurity. I am inextricably linked to my dad, for eternity, and he was the catalyst for my start in the technology field.
My thoughts have been all over the place this past week. I'm hardly back to myself. So please excuse the scattershot prose and story. This is a tough one to write.
Howard Brooks, a good-natured Jewish boy, was raised in Forest Hills (a section of Queens), N.Y. His mother was a homemaker, and his father was a traveling sign salesman. Brooks and his older brother shared a bedroom in the family's modest apartment in an old brick building, amidst a cluster of others, surrounded by tree-lined sidewalks.
Brooks attended Forest Hills High School in the late 1950s, and his classmates included Paul Simon and Art Garfunkel. Dad always loved music, and he held fond memories of the now legendary Simon and Garfunkel, and his other favorites that ranged from the opera star Mario Lanza to countless doo-wop bands from the '50s, to the great Elvis Presley, and a variety of others. While my father never learned to read music, he was able to play it by ear — on the piano and saxophone. And he had a great voice. I can still hear him signing the King's "I can't help falling in love with you."
Dad ran fast in his youth. He was a 21-year-old kid when I was born. Not being the domestic type, his first marriage was brief. He was a divorced dad at a time when being one carried a stigma. I was a 1-year old when Dad moved out. But he never moved on from being there for me.
One of my great memories is of Dad coming to pick me up from my grandparents' house (where I grew up). He would arrive on his light blue motor scooter, before he could afford a car. There weren't many 4-year-olds wearing helmets and riding around town on scooters back then, and I surely haven't seen that in my day. But that was Dad, and he always meant well.
I'm crying now. That's never happened while writing. So I need to skip ahead to Dad in business, which leads to the tech and cybersecurity stuff. If you've read this far, then you're undoubtedly relieved to be spared of my rambling.
Dad was an entrepreneur. I think he caught the sales bug from his father. One of Brooks' early jobs was as a salesman in a wig store. Years later, he went into business for himself selling vintage Broadway show posters. He was always selling something. But what he enjoyed even more was creating products that others would sell. Dad started up one very successful business — a pioneer in its time — which ultimately went under due to some shady partners … and he started up a few others over the years. Later in life, he was a solo operator of small businesses — and he died while still running one of them.
OK, OK, I'm getting to how this all ties into my career in cybersecurity. It was supposed to be in my second paragraph. Sorry!
According to a recent study conducted by Raytheon, less than half of all high school students in the U.S. have heard anything about cybersecurity from a parent, teacher, or guidance counselor (one of the big problems in our industry). Back in the early 1980s when I was in high school, it was much the same with computer technology. In my high school, we didn't have a single computer. But my dad was a tinkerer and an early Apple II computer user. He taught me how to use a computer — complete with floppy disc drives — when I was 16. It was something between the two of us. My friends didn't understand anything about it, and my teachers certainly didn't. And Queens was hardly the type of neighborhood that you hear about in stories about industry luminaries that grew up around computers, and then dropped out of prestigious universities because they knew more about technology than their professors did.
After graduating from high school, I had no direction at all. Dad did. But unfortunately, it was to serve time (18 months) at a federal penitentiary for allegedly committing a white-collar crime. Brooks pleaded guilty for a reduced sentence. My first long car ride behind the wheel was driving Dad to a prison in Allenwood, Pa. It was actually a fun trip, crazy as that may sound. By this time, a lot of what we'd talk about was business and technology. I was a sponge, and Dad was my first mentor. For whatever it's worth, having done some of my own investigating years later, I don't believe that Dad was guilty and if he had the stomach to wage a battle, then someone else would have done the time. Luckily for Dad, he went to one of the so-called cushy prisons with no bars. It wasn't anything like Johnny Cash, another one of Dad's favorites, playing for the inmates at Folsom County Prison.
Before Dad went away (he had a year to plan ahead and prepare the family, which by this time included my stepmom, brother and sister), we talked about my career. He thought I had an aptitude for technology, and he encouraged me to think about the field. One day, Dad drove me to the store in New Jersey where he purchased all of his computer equipment. He knew the owner, who allowed us to go in the back where they fixed broken PCs and printers. Dad introduced me to one of the techs, and I was hooked.
Although Dad lived in New Jersey and I still lived in Queens, we saw each other frequently and talked by phone. He suggested that I think about going to a vocational school for computer repair or something along those lines. That led me to enroll as a student at Control Data Institute (CDI) in Garden City (a town on Long Island), N.Y.
When Control Data Corporation, the parent company that operated CDI, offered me a full-time job as a field technician (while I was still a student in their school), Dad was my first phone call. I accepted the job and did double-duty for a few months before finishing school. College wasn't in the cards for me. I was a tech worker! And so my career began. If it wasn't for Dad, then I probably would have continued working in restaurants for the rest of my life.
While Dad did his 18-month stint, we exchanged letters, spoke on the phone, and visited in-person — including a trip to his furlough in Miami, Fla. He was great at making it feel like everything was normal, and our business and tech talk would always smooth things over for me. My first two years in tech included the CDC position and a job with a ComputerLand franchise (a storefront computer retailer, for anyone under the age of 40 that may not be familiar with the old chain).
There aren't many men who conceive of new businesses with a prison sentence looming. But Brooks did. And while incarcerated, he orchestrated the product development and launch of a medical industry startup. Before and after he got out, the whole business was drawn up on an Apple Macintosh (the original model). Boy, did I love that computer! Dad and I used PCs over the years, but we were both Mac guys at heart. We still are. If there are computers in Heaven, then Dad's got a hot new Apple machine up there. And for whatever it's worth, I'm typing this out on my own Mac.
Brooks was never in the "tech industry." But he loved tech and was an early adopter for his various businesses. Tech for us was like the sports bond that other fathers and sons enjoy. Dad was happy to watch me pursue a career in the industry, and he let me know it. And that was very gratifying to me over the years.
Life changed a lot for Dad and me over the years, as it invariably does for most of us. He remarried and became a divorced dad for the second time. And just like he did with me, he always tried to be there for my younger brother and sister — albeit in his own weird way — which became increasingly strange over the years due to his mental illness.
There are so many ins and outs to cover in someone's life. I'm barely scratching the surface of Dad's in this post. The main point is that I have no main point … because I'm grieving his death. I'm somehow trying to thank him for my start in tech.
Brooks was a cyber sleuth before there was a cybersecurity industry. He logged into cyberspace via dial-up before we had an Internet. And he was, by nature, a researcher. When he needed to track something down, he would do it digitally.
When I suffered one of the worst experiences of my life — an epic betrayal — Dad was the co-cyber investigator on the case … although official credit went to someone else with professional credentials. Brooks was smart enough to remain behind the scenes when it made sense to do so. By catching the so-called perpetrator red-handed and without any wiggle room to protest their egregious actions, Dad was once again the catalyst for sound decision making … this time in the face of substantial adversity. When you catch someone red-handed and in the act, and you've got the digital evidence, then you don't need revenge and there's nothing to prove. And as human nature would have it, people edit their stories to fit their agenda or to simply reconcile what they did — filing away the truth (only a fraction of which I've ever had to share) has been more than enough for me. This experience injected the white hat bug into my system. A few short years later, I would enter the cybersecurity field.
Dad suffered from a mental illness that would get progressively worse over the years. For a year or more at at time, he would rule one or more of his children out of his life and swear never to speak to them again. For a few years, Dad refused to speak to me. It started with my brother picking the wrong Chinese restaurant. Long story. And actually a funny one that my brother and I still tell to each other and laugh over.
This past holiday season, a few days before Christmas, Dad called me. I had tried to get in touch a couple of times, but he wasn't interested. He apologized to me, although he really didn't have anything to apologize for. His mental illness, and then rapid onset of dementia, compromised his ability to think straight. Dad always meant well and loved his kids, even though his brain would sometimes go haywire. But things were different as they always are when you don't speak to someone for a long time. Not bad, just a distance that needs some time to grow closer again. Unfortunately, we didn't have much time. It was clear to my brother and sister (who both lived near Dad in California) that he didn't have long to live. They kept me posted and I had a hard time coming to grips with the reality of his impending death.
Dad sent me an email a couple of months or so ago congratulating me for building a business in the cybersecurity industry. We never discussed Cybersecurity Ventures and Cybercrime Magazine because I started this up during the time when we weren't speaking. But, apparently, Brooks was watching, lurking in the background.
Howard Brooks is not my dad's real name. It's his alias. Not an illegal alias, but a name that he used for business and with his friends and family. The grandkids affectionately call him Brooksie, and Gramps.
I'm writing this while vacationing with my kids in northern Vermont. We came up the day after Dad died. He wanted us to. And as good karma would have it, my 17-year old son and I stumbled upon a pair of Brooks trail running shoes. My feet are very particular and it's hard to find shoes that are comfy. But as soon as I slipped these on, they felt great. I'll think of my dad every time I wear them. They're the perfect shoes for my winter running on Long Island. And I'll definitely bring them to California with me later this month when our family honors Dad.
There are things about my dad that have been hard to swallow over the years. But with his passing, those things suddenly vanished.
One thing leads to another in life. Dad helped get me started in tech. There are a lot of blanks to fill in this story — which probably doesn't make sense to anyone but me. I was compelled to write this. I apologize for telling it in Cybercrime Magazine if it wasn't a good read for you. But if it wasn't for my dad, then there may have been no Cybercrime Magazine.
I love you, Dad … a.k.a. Brooks.
– Steve Morgan is founder and Editor-in-Chief at Cybersecurity Ventures.
Go here to read all of my blogs and articles covering cybersecurity. Go here to send me story tips, feedback and suggestions.