Stu Sjouwerman. PHOTO: Cybercrime Magazine.
05 Dec

KnowBe4's CEO Goes Reddit At FutureCon Cybersecurity Conference In Tampa, Florida
Keynoter Stu Sjouwerman throws his slide deck out the window for AMA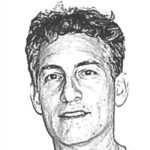 – Steve Morgan, Editor-in-Chief
Northport, N.Y. – Dec. 5, 2019
"Ask Me Anything (AMA) is a Reddit tradition," says Stu Sjouwerman, founder and CEO for KnowBe4, the leading security awareness training and phishing simulation provider globally.
"I was invited to keynote at yesterday's FutureCon cybersecurity conference in Tampa, Florida," adds Sjouwerman. "I threw the slide deck out the window after five minutes and we opened it up for an AMA to these 200 plus security people who picked my brain about how to get pesky end users security-aware. It was great fun!"
End users refers to the weakest link in the cybersecurity chain at organizations globally — namely its employees. A new phishing awareness campaign from KnowBe4 and Cybercrime Magazine, which can be seen at PhishingCampaign.com, illustrates the problem. Most employees at companies of all sizes and types globally are not fully aware of the cyber threats that they are likely to encounter.
Even some IT professionals struggle to keep up with the growing number of advanced scams, such as spear-phishing and whaling.
---
---
The FutureCon attendees were hooked on Sjouwerman's talk. And for good reason…
More than 90 percent of successful hacks and data breaches start with phishing scams, according to KnowBe4. Emails claiming to be from popular social websites, banks, auction sites, or IT administrators are commonly used to lure the unsuspecting public. It's a form of criminally fraudulent social engineering.
Sjouwerman, a successful serial entrepreneur, knows a problem when he sees one. He's built KnowBe4, which started up in 2010, into a unicorn — recently valued at one billion dollars when the company raised $300 million in venture funding from KKR and others. To be sure, there were some cybersecurity founders gawking in the audience.
FutureCon is coming up on its one year anniversary. In a short time, the trending cybersecurity event producer has managed to line up some of the top names in our industry as keynoters and panelists. KnowBe4's founder is the latest example.
For 2020, FutureCon has 27 cybersecurity conferences planned in North America. You can see the full calendar here.
– Steve Morgan is founder and Editor-in-Chief at Cybersecurity Ventures.
Go here to read all of my blogs and articles covering cybersecurity. Go here to send me story tips, feedback and suggestions.