Penetration Testing. PHOTO: Cybercrime Magazine.
14 Aug

Global Penetration Testing Market To Exceed $5 Billion USD Annually By 2031
25 Ethical Hacking Facts, Figures, Predictions, and Statistics. Sponsored by BreachLock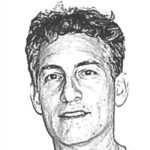 – Steve Morgan, Editor-in-Chief
Sausalito, Calif. – Aug. 14, 2023
"If you're spending one dollar on cybersecurity and you're not doing penetration testing, then you're doing something terribly wrong," Seemant Sehgal, founder and CEO at BreachLock, told Cybersecurity Ventures.
You can spend as much as you wish on perimeter and network defense, implementing zero-trust policies, training staff, and endpoint protection, but unless you consistently test the effectiveness of cybersecurity defense, potential pathways for exploitation remain open.
Substantial and frequent penetration testing is crucial for modern businesses to mitigate the risk of cyberattacks today. Facts, figures, predictions and statistics help CISOs and cybersecurity leaders understand the market dynamics.
25 PEN TESTING MARKET STATISTICS
---
---
---
---
– Steve Morgan is founder and Editor-in-Chief at Cybersecurity Ventures.
Go here to read all of my blogs and articles covering cybersecurity. Go here to send me story tips, feedback and suggestions.
Charlie Osborne, Editor-at-Large for Cybercrime Magazine, contributed to this report.
---
Sponsored by BreachLock
Affordable, Smarter and Scalable Cyber Security Testing
BreachLock™ offers a SaaS platform that enables our clients to request and receive a comprehensive penetration test with a few clicks.
Our unique approach makes use of manual as well as automated vulnerability discovery methods aligned with industry best practices.
We execute in-depth manual penetration testing and provide you with both offline and online reports. We retest your fixes and certify you for executing a Penetration Test. This is followed up with monthly automated scanning delivered via the BreachLock platform. Throughout this process, you have access to the platform and our security experts who will help you find, fix, and prevent the next cyber breach.
Find out why penetration testing with BreachLock™ is the leading choice for startups, SMBs, and enterprises around the world.
BreachLock has offices in The Netherlands, London, New York City, and Wilmington, Del.