Apollo Robbins on Cybersecurity. PHOTO: Cybercrime Magazine.
15 Jan

Dishing On Phishing: A Master Of Deception On Security Awareness Training
KnowBe4's KB4-CON event features a cyber showman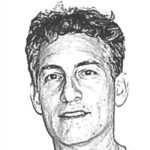 –Steve Morgan, Editor-in-Chief
Sausalito, Calif. – Jan. 15, 2020
Apollo Robbins is an American sleight-of-hand artist, security consultant, self-described gentleman thief and deception specialist. Forbes has called him "an artful manipulator of awareness."
Robbins was also one of the main draws at the last KB4-CON, the world's largest conference designed for CISOs, security awareness training program administrators and InfoSec professionals.
Cybercrime Magazine caught up with the security showman so that we could learn how a master of deception thinks, which arguably is how a cybercriminal thinks. The difference being, Robbins wears a white hat and he genuinely wants to help people.
His advice? Go on the offensive.
Watch the one-minute video to see what Robbins means:
---
---
In a nutshell, here's what Robbins had to say:
"Ongoing security training is important for a couple of reasons.
"One, our environment changes so fast — technology is constantly changing.
"But two, we have two different dynamics of how it is actually happening. We have broadband attacks that attack general practitioners like phishing. And then we have very targeted attacks on C-class executives.
"So what that means is that experts who think that they're above that could be very vulnerable to attacks. So you have a multi-platform and multi-faceted problem.
"I'm concerned a lot that so much of security is focused on risk. That it is about lowering risk versus increasing insight. And I think that we need to not just think of playing defense, but also how to think about offense if we're going to try to battle this arms race of imaginations."
Robbins stopped short of saying it, as his style is more to send signals. So in case you didn't pick them up — it's time to train up your employees and turn them into frontline cyber fighters.
At KB4-CON 2019, Robbins demonstrated deception and social engineering while demystifying neuroscience concepts and explaining how to develop resilience through awareness.
So, what does KnowBe4 have up its sleeve for KB4-CON 2020? Here's a sneak peek. Kevin Mitnick, the world's most famous hacker and KnowBe4's Chief Hacking Officer, says that we need to be concerned about malicious hardware.
Stay tuned for more dishing on phishing next month.
– Steve Morgan is founder and Editor-in-Chief at Cybersecurity Ventures.
Go here to read all of my blogs and articles covering cybersecurity. Go here to send me story tips, feedback and suggestions.
---
Sponsored by KnowBe4
KnowBe4 is the world's largest security awareness training and simulated phishing platform that helps you manage the ongoing problem of social engineering. We are a leader in the Gartner Magic Quadrant and the fastest-growing vendor in this space. We are proud of the fact that more than 50 percent of our team are women.