Tricia Howard. PHOTO: HolistiCyber.
17 Feb

Breaches Rise, Empires Fall, We've Ignored The Data Through It All

Posted at 17:55h

in

Blogs
Tricia Howard sings a song for the times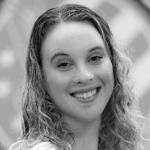 – Amanda Glassner
Northport, N.Y. – Feb. 17, 2021
Tricia Howard's LinkedIn profile kicks a__. Connecting with her is an experience unlike any other. You'll find poetic job descriptions, witty posts, and a one-of-a-kind bio:
@TriciaKicksSaaS Marketer identifying as infosec. Fine Arts Evangelist, Social Media Virtuoso, Professional Nerd, Outcome Jedi. ENTJ.
Her occupation turns others green with envy, the total opposite of her bright pink hair. "Content creation, womanning the booths, and getting the word out, anything to do with marketing, I'm your girl."
Howard beat the odds and landed a career in cybersecurity — a hot industry notorious for demanding so much technical experience that it drives away even the most ambitious candidates.
With a B.A. in Theatre and a resume dotted with roles including shipping assistant at a plastics company, customer service representative at a video store, and sales for an IT provider, Howard took the leap to network solutions specialist. It wasn't long before she went to work for Optiv, a well-known cybersecurity brand.
By finding success in cybersecurity, Howard, now a marketing manager at HolistiCyber, has broken society's assumption that your college major is a prerequisite for your career.
While not entirely wrong, this idea is a stubborn roadblock for aspiring professionals everywhere. Much like flying an airplane on auto-pilot, accounting majors become accountants, education majors become educators, and musical theater majors become … cybersecurity professionals?
In Howard's case, the answer is yes. Despite her unique and occasionally bumpy career path, she found a way to merge her interests, yielding remarkable results.
With 3.5 million job openings in our field, cybersecurity companies can no longer afford to pick and choose their applicants. The industry standard for who is considered hirable has undergone a noticeable transformation that is worth looking into for anyone seeking a rewarding role.
"I kind of, in a weird way, injected myself into the industry through Twitter," says the social media virtuoso in an interview on the Cybercrime Radio podcast, explaining how her background in theater equipped her for a career in cybersecurity.
She's dead serious about Twitter:
@TriciaKicksSaaS — Marketer identifying as infosec. A little Sithy. #DRCSE @AlfieBoe/@rickygervais Fanatic. @holisticyber gal. Punderful. She/her. Tweets=mine
"What happens whenever the script calls for a very specific prop and, for some reason, that prop is not there; what do you do?" she asks. "In security, that's what we're doing all the time; we're looking for these missing props and trying to find out what we can replace it with and how it works."
Reflecting on her own experience, Howard passionately advocates for less gatekeeping, more cross-training, and hiring people with diverse backgrounds. She feels artists are particularly well-suited to work in cyber, as many are natural-born quick thinkers.
"Go to school for what you're passionate for, and you will figure it out," advised Howard just before performing a parody of the widely loved "You'll Be Back," from the musical Hamilton, made famous by Jonathan Groff in his role as King George III.
"You'll be hacked, soon you'll see, you'll remember you need security… Breaches rise, empires fall, we've ignored the data through it all…" These are just some of the talented singer's creative lyric changes.
So, no matter what your college major was, look into cybersecurity as a potential career, but don't expect to veer far afterward. Cyberspace has a certain appeal, leaving everyone in its orbit curiously eager for more. Rest assured, just as King George III sings, "you'll be back."
To listen to Howard's full performance, as well as hear about her love for Star Wars and several funny anecdotes about how she got involved in theatre, listen to the podcast episode here.
– Amanda Glassner is a staff writer and reporter at Cybercrime Magazine.
Go here to read all of my blogs and articles covering cybersecurity. Go here to send me story tips, feedback and suggestions.