Phishing Dummies. CARTOON: Rothstein/Morgan.
27 Jul

Are You A Spear Phishing Dummy? Be Safe, Don't Click
Cybercrime is no laughing matter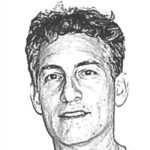 – Steve Morgan, Editor-in-Chief
Sausalito, Calif. – Jul. 27, 2020
Do you know the difference between a phishing scam and a spear phishing attack?
The editors at Cybercrime Magazine are conducting a phishing campaign which is sponsored by KnowBe4. A survey quizzes employees at companies of all sizes and types to find out what they really know about phishing.
So far, not one person was able to fully explain the difference between being phished by a hook and a spear.
---
Cybercrime TV: "I Have Not Heard Of Spear Phishing"
Wealth management advisor with a few hundred million dollars under management
---
While phishing attacks target anyone who might click, spear phishing attacks try to fool people who work at particular businesses in order to gain access to the real target: the company itself, according to CrowdStrike.
Hoxhunt recommends 3 steps for detecting spear phishing emails:
1. Check the sender and domain — carefully check the sender's email address and validate that the message is coming from the real domain.
2. Hover over hyperlinks — If the email has hyperlinks, then you should check where they point to by hovering over them.
3. Read and verify — If the email is from someone you've been sending messages with before, then see if the style and tone are familiar. If the message has a signature, check that it matches their previous emails. If it asks you to click on a hyperlink, open an attachment, reveal any information or make an action, then contact the sender via a different channel and ask if the email is really from them.
Knowledge is power in the war against cybercrime. You don't have to be a spear phishing dummy.
Be smart. Don't click. Stay safe.
We'll be back soon with another cybercrime cartoon.
– Steve Morgan is founder and Editor-in-Chief at Cybersecurity Ventures.
Go here to read all of my blogs and articles covering cybersecurity. Go here to send me story tips, feedback and suggestions.