Cyberwarfare. CARTOON: Rothstein/Morgan.
27 Aug

Are Panda Bears Hacking Your Network?
Cybercrime is no laughing matter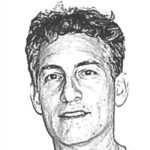 – Steve Morgan, Editor-in-Chief
Sausalito, Calif. – Aug. 27, 2020
What's the difference between cybercrime and cyberwarfare? Intent, according to Dr. Chase Cunningham, author of the book "Cyber Warfare – Truth, Tactics, and Strategies: Strategic concepts and truths to help you and your organization survive on the battleground of cyber warfare."
Cybercrime is committed with the intent to steal money, personally identifiable information (PII), or even blackmail material, according to Cunningham, a Forrester principal analyst serving security and risk professionals.
Cyberwarfare, as the name implies, is carried out with intentions to inflict harm on a country (or multiple countries), explains Cunningham, a former chief cryptologic technician who spent nearly 14 years at the National Security Agency.
---
Cybercrime Radio: Dr. Chase Cunningham on Cyberwarfare
Interview with the former Chief Cryptologic Technician at the NSA
---
U.S. three-letter agencies such as the CIA, FBI, and NSA are obvious cyberwarfare targets. But what about your company?
Earlier this month, John Demers, head of the National Security Division at the Department of Justice, spoke about national security threats from China at an event sponsored by the Center for Strategic and International Studies in Washington, D.C.
Demers said that China is predominantly responsible for the theft of U.S. intellectual property, and that the insider threat is a growing problem, reports The National Law Review.
The Ministry of State Security (MSS), the intelligence and security agency for China responsible for counter-intelligence, foreign intelligence and political security, is good at developing relationships with individuals at U.S. companies who have access to IP, and many of the DOJ's trade secret prosecutions now result from insider threats.
If you see a Panda Bear sitting at a computer in your office, then don't think your eyes are playing tricks on you. If you observe any suspicious computing activity at your company, then tell management about it.
Be smart. Don't click. Stay safe.
We'll be back soon with another cybercrime cartoon.
– Steve Morgan is founder and Editor-in-Chief at Cybersecurity Ventures.
Go here to read all of my blogs and articles covering cybersecurity. Go here to send me story tips, feedback and suggestions.