Cybersecurity Budgets. CARTOON: Rothstein/Morgan.
30 Oct

CEOs Buy Cybersecurity After The Hack
It takes more than a "Keep-Out" sign to thwart cybercriminals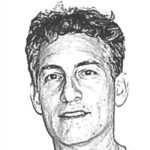 – Steve Morgan, Editor-in-Chief
Sausalito, Calif. – Oct. 30, 2020
Global cybercrime damage costs are predicted to reach $6 trillion annually by 2021, up from $3 trillion in 2015. Investments into cyber defense products and services are not nearly enough to protect businesses from hostile hacking activity.
For the five-year period from 2017 to 2021, the cybersecurity market will amount to roughly $1 trillion spent on products and services.
To be clear, cybercrime damages costs are an order of magnitude greater than the amount of money being spent to stop them.
More than 50 percent of cyberattacks are launched on small businesses. CEOs don't entirely understand the cyber threat, and too many of them aren't budgeting to defend against it.
---
Cybercrime TV: Jack Blount, President & CEO at INTRUSION, Inc.
Every American business is infected with malware
---
Ransomware — a malware that infects computers (and mobile devices) and restricts their access to files, often threatening permanent data destruction unless a ransom is paid — has reached epidemic proportions globally and is the "go-to method of attack" for cybercriminals.
Ransomware damage costs will cost the world $20 billion by 2021 — which is 57X more than it was in 2015. This makes ransomware the fastest growing type of cybercrime.
Cybersecurity Ventures predictions that ransomware will attack a business or consumer every 5 seconds by 2021.
Cybercrime can be a real pain in the wallet. But it is way costlier when you are cleaning up after the breach. Organizations can not afford to be penny wise and pound foolish when it comes to cybersecurity.
Be smart. Don't click. Stay safe.
We'll be back soon with another cybercrime cartoon.
– Steve Morgan is founder and Editor-in-Chief at Cybersecurity Ventures.
Go here to read all of my blogs and articles covering cybersecurity. Go here to send me story tips, feedback and suggestions.